Bringing Indoor Comfort to Outdoor Living
Infrared or radiant energy is the most practical way to add warmth to spaces like patios, terraces, verandas, enclosed areas, or any indoor or outdoor setting where heated air cannot easily be contained and re-circulated.
A heated quartz element emits a safe, clean wavelength of light that is only absorbed by solid objects, transferring heat directly to a person, table or floor rather than heating the air. For this reason, infrared heat can be distributed very evenly, and will not simply "blow away" in windy or drafty conditions.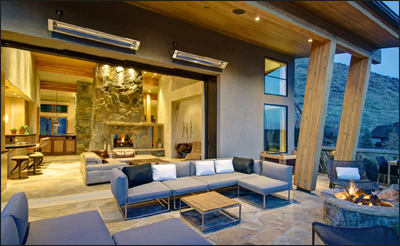 Infratech Advantages
Made in the USA

Custom Design

Flush-Mount Installation

Custom Controls